When I say Fort Benning, I feel home. Here is the first place when I put my feet and I really like it.When I thinking about the end of days, when my husband will fin the stage and we will need to live it and goes in another place, sometime i'm scare and sometime I want to pass quickly the days and moved in another place, make new friends, fell the life because I know, if we are together everything will be easy.
So, today I wanna write about Fort Benning, where it is, what is here, what can you visit and many others.
I'll start with…Fort Benning is located in an area commonly known as the "Tri-Community", comprised of Columbus, Fort Benning, Georgia, and Phenix City, Alabama.
Columbus, known as Georgia's third-largest city, is a growing community of 250,000.
Besides being the home of the Best Army Installation in the World, Fort Benning, Columbus is the corporate headquarters of many leading companies.
The stunning Florida gulf shores and picturesque Blue Ridge Mountains are only a few hours' drive from Fort Benning.
Fort Benning straddles the southern portion of the Georgia/Alabama state lines and is nestled between Phenix City, AL and Columbus, GA. Dubbed the US Army Maneuver Center of Excellence, Fort Benning is home to Basic Training, Airborne and Ranger School. You'll also likely spend time here if you are a member of Ranger Regiment, armor, infantry or military intelligence units.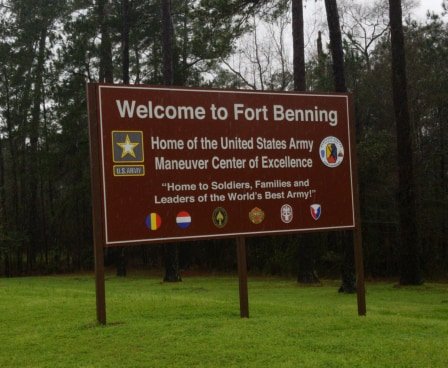 PCS'ing to Fort Benning should come as welcomed news to most with all the area has to offer. Easy access to abundant parks, trails, and whitewater rafting in Chattahoochee River can please the adventurer's spirit, while exploring Columbus' quaint Midtown provides mellow southern charm. Uptown Columbus has a vibrant independent shopping and restaurant scene, a farmer's market, and year-round running and bike races. Big Box shopping is just a quick drive up the road in North Columbus. Across the river in Alabama, you can easily find a more low-key, rural lifestyle to escape to.
Let's move on to places where you can eat cheap, good, quantitative but also qualitative, there may be many more but these are the ones that personally delight me tremendously.
1. Hibachi Grill & Supreme Buffet – Spacious stop with a buffet of Japanese, Chinese, Mexican & American grub, plus a hibachi station.
2. Q Korean Steakhouse – They strictly offer full-service Korean barbecue (no distractions needed!) with a hefty spread of classic and modernized banchan. Try your hand at customizing each bite with morsels of smoky grilled meat and crunches of fresh and pickled vegetables. Don't forget the sauce!
3. La Nacional Mexican Buffet – Authentic Mexican Food!
4. Golden Corral – It is an American restaurant chain serving breakfast, lunch and dinner, featuring a large all-you-can-eat buffet and grill offering numerous hot and cold dishes, a carving station, and their Brass Bell Bakery.
5. Taqueria La Mexicana – Great little store that's authentic with lots of taste. An amazing little getaway that'll leave you overstuffed and happy .
6. Dunkin Donuts – the place where you can enjoy America's favorite coffee and baked goods chain.
7. Red Lobster – seafood restaurants yammyyyyy I love it!!!
These are just a few of many restaurants and buffets, but they have delighted my taste buds enormously and I would return to them whenever I have the chance.
Now let's move on to something more serious…
1. RosesDiscountStores – has been making the things you need and want in life accessible , quality items at low prices, everything that goes through your head and not through your head – house, clothes etc
2. Dirt Cheap – I love the unknown part of shopping at Dirt Cheap, because you really never know what you will find once you are there. If you like saving money and finding great bargains, then Dirt Cheap is the best place to shop.
3. Ollie's Bargain Outlet – Discount chain carrying a wide range of closeout merchandise, including food, housewares & toys.
4. Aldi – Retail chain selling a range of grocery items, including produce, meat & dairy.
5. Fort Benning -Commissaries – food and beverage.
6. Fort Benning PX – a quiet place to spend your day shopping, serving one and local fast food outlets or beauty salons.
7. TJ Maxx – is an American department store chain, selling at prices generally lower than other major similar stores. It has more than 1,000 stores in the United States, making it one of the largest clothing retailers in the country.
8. Marschalls – is a chain of American off-price department stores owned by TJX Companies. Marshalls has over 1,000 American stores, including larger stores named Marshalls Mega Store, covering 42 states and Puerto Rico, and 61 stores in Canada.
9. Ross Dress for Less – is an American chain of discount department stores headquartered
10. Dollar Tree – formerly known as Only $1.00, is an American chain of discount variety stores that sells items for $1 or less.
11. Bargain Hunt – it is another American Discount store chain , where you can even find most cheap and good stuff, including eating and toys for the little ones
12. Bluebelle Home Decor and Gifts – the place where you can sold many article if you are an artist
13. Hobby Lobby – The Best In Arts, Crafts & Home Decor
Every place is mysterious, in every store you can find something else, first everything you need for the house, the second different tools but you have to have time to look, the third especially Christmas is a great place where you can purchase a lot of gifts at Exceptional prices, Aldi, from here you can find vegetables at super low prices compared to the Walmart, at Commissaries you can find the cheapest meat but also different products to which the military does not pay taxes.
Our beautiful shops… women love them and these are depending on everyone's budget but also desires. Tj Max a big brand, Marshalls and then they all get to Ross. Depending on the season they gradually reach from one to the other but sometimes they can find the same products at two of the stores and can be found even at different prices. It's worth trying them all anyway and the nice things will surely jump right in front of you.
Maybe there are more, but at the moment they come to mind and know exactly where I can find what I need depending on the departments.
That's about all it is for today… I'm going to have to think about us and what we want, from now on, a new chapter of our lives will begin and… ONE WAY… Dallas, get ready, we're coming!
My friends… even if you are few, Oly, Adriana, Mac, Cathy, Cassanova and Mr.Patrick know that you will not get rid of us and you will always remain in our harts and our door will always be open for you.