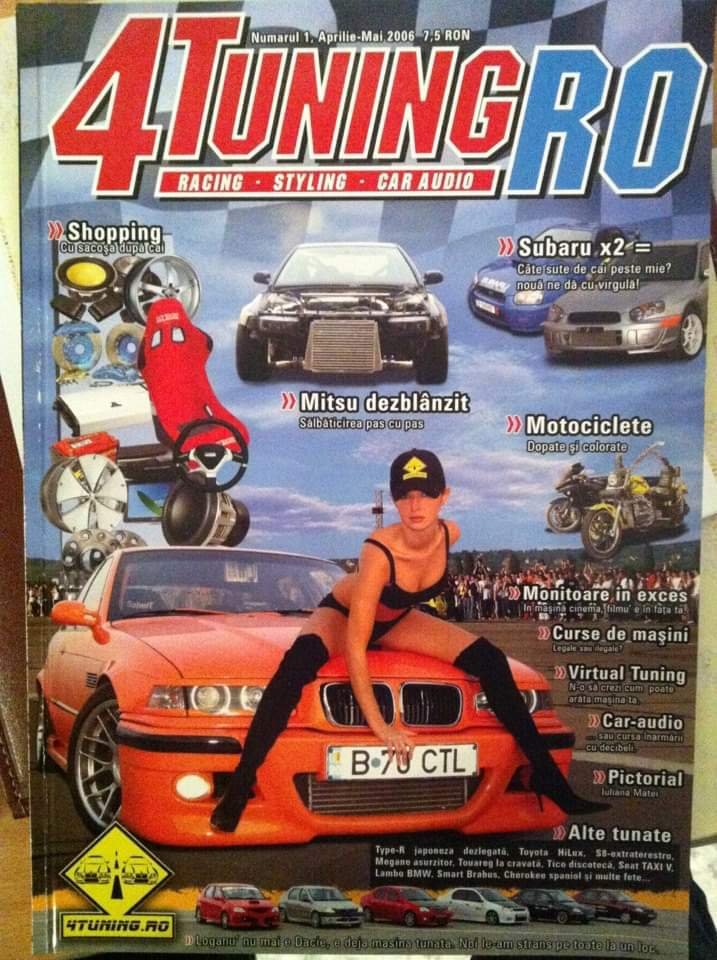 Who am I or rather who was I?
I think I stayed the same but today I am inspired or rather rewrite an interview dated from the first issue of 4tuningRo magazine from 2006 where I had the great pleasure to be their image.
"Well, it's pretty hard for me to describe myself. You know, it's like a matter of subjectivism … But to say that Iuliana Matei is a model who has the chance and the honor to promote herself thanks to 4tuning. I became a model out of the pleasure of learning something new … over time I started to be a model for different photographers, and now … I love this … to be photographed. I couldn't believe this when I fell in love with cars, after suffering a car accident in which I had a skull fracture … I don't know… It was born out of the blue to be called by Gratian … who asked me what else I also do if I want to collaborate with them. And so on … A project was linked from that discussion. Now we are like a family and I feel good about being friends. All I want is not to cool our love and to collaborate indefinitely.
Getting photographed may be easy when you think about it, but it's a pretty long step … you have to respect the person next to you, to trust her and first of all to love what you do, to want everyone the date to take a better picture, to find a position in which both you and what you want to describe will benefit … to stand out.
I got to have a lot of friends on the occasion of 4tuning … whether he praises me, or denigrates me, or quarrels with me, or 'forgives' this is life, I wasn't upset because in life to go through a lot to learn to understand what SHE means. Sometimes, however, I collapse …
I tried to answer everyone, because I respect the person who in turn respects me. I have my time … besides the college I attend, work and 4tuning I have to thank my family, friends as well as the person who is next to me.
I cannot express absolute opinions about relative truths. Each person must have his own path and any 'journey' involves joys, expectations, delays, accidents, the surprise of discovering new people, new things and places.
Maybe I'm full of some paradoxes I can't explain. But I can tell you that you have to follow your dreams, try to overcome your condition, have friends in elastic circles, because it is important to be valuable even when you are completely naked. What is intended cannot be influenced, maybe … dreamed. The dream of love is the most painful, especially when you know that you are not allowed to turn it into reality, but to keep it in the dark. Of the mind, of the thought, of the heart …. Looking at one of the photos … I start dreaming again. Because there are things, as well as people that make you vibrate, you make you close your eyes and to ask the one above to work a miracle. The living wound that sometimes heals or not … we love these punishments and we can't give them to anyone to atone for.
Maybe the accumulated fatigue makes me write these lines. Sometimes I feel good in my loneliness, so the only thing I want in the world is not to become indifferent …
A friend told me that I am too voluntary, complicated and sometimes unconscious, because I can give in to other feelings than the love I feel for that person next to me who has been with me for some time, but I think we have more on ourselves than on those around us.
I do not consider myself a beautiful, intelligent person … but only a person who fights, struggles and makes compromises only in the name of love; I strongly believe that we need very little to be happy; and I still think it's not important to talk about money, but just to have it … Of course, if you can't without someone's hug, if you can't without someone's real or illusory love, if your life means, in fact, his life , then it's worth every sacrifice to be two and have everything you want. "
Yes ii although the years have passed, this interview made me relive the same emotion and the same feelings and Yes… it really deserves any sacrifice to fulfill your dream and have everything you really want and for me the word FAMILY meant everything.
I thank my husband Stefan for a new beginning and especially for the miracle that shines on my life. My daughter Arya